Limit of 20 painters - No age limits ***

Aside from childrens paintings, Many paintings are beyond the capapbilities of many children under about 13yrs,.
​​
Have a group of atleast 7 and feel like putting on a painting shindig @ your home, restaurant or other meeting place? Then a PRIVATE PARTY is for you! 
​
CONTACT
FOR
OPEN & PRIVATE PARTIES
Home or private facility ~
You + atleast 6 additional painters
You + atleast 9 additioanl painters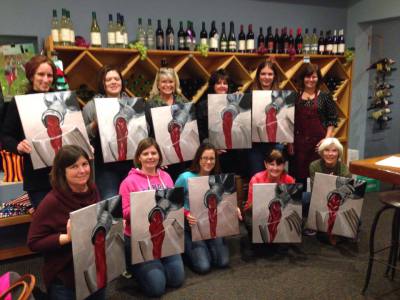 HOW MUCH??

$30 per painter.

Invitees pay you, you pay me prior to painting session, I can email a PayPal invoices to those who prefer to pay with credit (+ Paypal processing fee). Mimimum $180 (6 x $30) even if less than 6 painters show up. I can accept cash, credit from you. Checks are also accepted for full payment 1 week prior to event.
​
​$75 deposit upon private party reservation. Your $75 deposit is deducted from your amont due at the party.



Party cancellations

must be made 14 days in advance for a full deposit refund. Less than 14 days notice will not receive a deposit refund.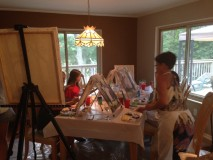 Public Venues available for private parties

  (always open to new suggestions! )​​

D. Coy Duck, Lawton - up to 20 painters

La Cantina, Paw Paw - up tp 20 painters

Lawton Ridge Winery, Oshtemo - up to 13 painters

Main Street Pub, Mattawan - up to 13 painters


Bangor Tavern, Bangor - up to 13 painters

Brewsters @ the Dykman, Paw Paw - up to 9 painters
Any of the public venues, or at your home or other facility (community room, lions club, etc.) that you have access to. Just let me know where, I'll set it up!

If at a restaurant ~ There is a minimum of 10 painters (you + atleast 9), scheduled on a week night or Sunday evening... slow nights for restaurants.

If at a private location ~ You decide the date. Almost any day works except Thursday.

If you'd like your event held outside, you'll need an area that stays shaded and an indoor backup painting area in case of wind, bugs or rain. Sorry, No rain dates.

You Pick the Painting! In planning larger group events, I can assist you in picking a painting to fit your needs.

​Check out my paintings  Gallery ,

CUSTOM DESIGNED PAINTINGS = $25 FEE
FOOD & REFRESHMENTS

at a restaurant: Food, drinks & furniture provided by the restaurant... you get to take it easy and just show up! 

Private Facility: You provide snacks/food & refreshments, or make it B.Y.O. food/refreshments

SPACE, adequate lighting, tables & SEATING ~ You'll need enough for everyone, and space for me + 4'x4' for a floor easel & a little room to move . An average 6' banquet table seats 2-3 painters, most card tables seat two, pool table (w tall chairs) seats 6-7. 

I handle the clean up :)

~ Facebook event & email invitation, if you like
~ 2.5 - 3 hrs. (depending on painting) of step-by step instruction
~ table coverings
~ All painting supplies
~ Aprons
~ All set up & tear down

Collaborate with other parents, or throw your own Private kids paint party at your home!
​$20 per child,, Minimum 9 painters / $160 ( your child paints FREE! ) If you can't meet the minimum # of painters, The $160 minimum must still be met.



Scheduled on Saturday afternoon, Sunday afternoon or early evening & weeknights - No Thursdays,

1st grade & up. Please refer to the grade/ability levels near the titles of each kids painting, which are approximate guidelines... Painters younger than 1st grade may need more one on one help, possibly from a parent helper.





Check out kids paintings here near the bottom of the page.
Home or private fecilities only, no restaurants for childrens parties.

​

Susan, on behalf of the

Paw Paw Grad Bash, I would

like to thank you for the opportunity

to join up with you and the Thirsty

Painter's club as a fund raiser. It was great

to have a fun girl's night out, and make some easy cash to support our cause. You are so patient & so good at teaching us. You make painting easy & fun, even for a clueless person like me!!! We had so much fun laughing with

our friends & laughing at ourselves!!! We even ended up with pictures that we could

hang up or give away. So thank

you again. We had a great time!!! #greatestfundraiserever

#nocookiedoughtoeatordeliver

#😊$$$


​~ Holly
​

FUNDRAISERS

Earn $5-$20 per painter!

fundraisers work the same as private parties, but you get to set the ticket price​. $3o from each ticket covers admission, anything over that is for your cause to keep! Most fundraiser tickets go for $45-$50 each. Fundraisers can be private or open to the public, and you chose the painting & the venue! ​​